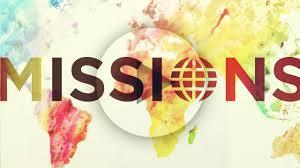 The Missions Committee meets the 2nd Tuesday of the month at 5:30 in the library. We would love to have you join us! If you have been looking for a way to get involved in spreading God's word in a non-stressful way, you should think about joining the missions committee!
Don and Janet Guizzitti are our missionaries in Burkina Faso, Africa but they have been stuck in Denver since October when Don suffered a ruptured disk in his back and had to be evacuated to the States
for back surgery. As Don said, "This has been quite a lesson in patience!" After two more surgeries and an infection, Don is finally feeling well enough to make plans to go back to Africa in February. Please pray that he continues to heal with no more bumps in the road.
Kendra Brady is serving the Lord in Tanzania, Africa. She was home in Canon City over the holidays. She was here to spend time with family
but her main purpose was to meet her new born niece! She is now back in Africa teaching young women and girls self-defense techniques, while also teaching them about God. She has tied each defense lesson to a Bible lesson. The response from her students has been very good.
The Cloyd Family is serving God in France. They have asked for prayer adapting to their neighborhood. Lately rocks have been thrown at their windows. The neighborhood is largely immigrants with a large population of Muslims.
Lisbia and Ildefonso Ramirez are very busy in their neighborhood and community in Mexico, running a kid's club, men's and women's Bible studies, and a teen group! Ildefonzo has an
opportunity to travel with Mission's Door to Southern Mexico. He is having a lot of back problems and is hoping it will not stop him from traveling. They ask for prayers for his back and for the medicine he needs, which is very expensive.
Alicia Johnson Aguilera is serving in Argentina. She and her husband run teen camps and since it is their summer right now, they are very busy! They are planning a trip to the US in May but as you can imagine, it is very expensive to travel so far! They ask for prayer that the money will be available for travel.

Our next Congo Milk Fund Fundraiser will be Sunday, May 6th at 10:30 am in the Fellowship Hall. Refreshments are provided by the Missions Committee. All donations received are sent to support the Congo Milk Fund which helps to provide nourishment to children in Mulungwishi, D.R. Congo.




--- CFF Missions Committee