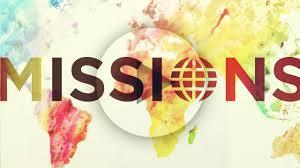 across the street &· around the world
Matthew McMillan and family serving with Pioneer Translators in northern Russia will be visiting Canon City in June. They will be helping with VBS the week of June 16th through the 20th. Matthew said that they are getting ready to move to Salekhard and that this will be their 4th move in three years. "There are many flights, train rides and road trips before arriving in Salekhard in late July," wrote Matthew. He asked that we pray for the whole family during this long and difficult move.


Kendra Brady, who serves in Tanzania, Africa will also be "home" this summer. Recently, she helped set up a three-day overnight camp for kids. It was called Bamba Camp. They played games, sang, went swimming and heard the Good News! Kendra also told about her Easter. She brought three South Asian teenagers, who were raised Hindu, to church. It was the first time they had been in a church. They saw a baptism and had many questions. When Kendra returns to the States, she will be working on getting her work permit. There has been a lot of trouble getting permits lately. Kendra asks, "Please pray that my permit will be approved and also the work permits of my team."


Don and Janet Guizzetti (working in Burkina Faso, Africa) have become a nexus of jihadist activity. Due to many refugees and families fleeing from the violence, the number of people in need of help has ballooned! "We began with 10 infants. We now have 48 babies! Can we turn away a premature baby who weighs little more than a quart of milk? Can we tell a mother of triplets that we can only feed two of her babies? The answer is,"We DON'T turn anyone away!" Don and Janet will be visiting and speaking during the service on June 30th which also happens to be our next Fellowship and Formula time after the service!

The Missions Committee meets the second Tuesday of the month at 5:30 in the library. Please feel free to join us anytime.
--- CFF Missions Committe