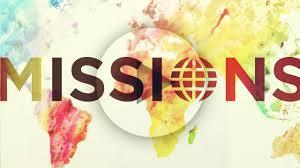 We have several activities to report along with some changes in our future support of our missionaries.
Kids International Ministries (KIM) has a new director: Norman and Tina Denler. They have asked for our prayers as they make this difficult transition.

The Congo Milk Fund Fundraiser is the last Sunday in July. We appreciate your continued support as we send the money to help children have a nutritious meal which can affect their future health and well-being.

James and Cheryl Cloyd and family will be sharing about their ministry in France on Sunday, August 6th.

Aluminum cans that were collected yielded $63.00 for Daisy's babies in the Philippines.

We are so excited to have Ildefonso and Lisbia Ramirez, our missionaries in Mexico, visit us September 10th! It has been 3 years since they made the trip to Colorado and it will be so interesting to hear all the work they have been doing.


Loaves and Fishes


The month of September will be CEREAL MONTH! Please buy a box of cereal this month and place it in the box in the Fellowship hall.


Daisy Chell has returned to the United States (Montrose, Colorado specifically) from Faith Academy in the Philippines. It is her goal to attend some missionary conferences and seek the Lord's direction for her life. Please support her with your prayers as she makes these life-changing decisions.


In September, Terri Humphreys will finish her term as the Missions committee chairperson, and Jane Mattox was confirmed at the June business meeting as the new chairperson. We thank and welcome her.
If you would like to have a list of the missionaries we support here at CFF, please contact Terri Humphreys at 719-275-5118. Please check out the bulletin board in the Lobby for the latest newsletters we receive directly from our missionaries.



--- CFF Missions Committee